The Queen of The South Supporter's Site
Saturday, 25th February, 2017
Site Update In Progress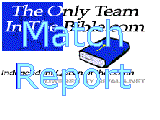 By Stuart McLaren
Date 25th February, 2017
Details from Queens game against Raith Rovers will appear soon. In the meantime, the Fantasy Betting League will be closed until I update the results, but feel free to browse the rest of the site. Check back in soon.
Latest From Palmerston Park, Dumfries
Queens 2 v 3 Raith Rovers
Queens Team
Robinson
Mercer
Brownlie
Dowie
Marshall
Thomas
Jacobs
Rankin
Thomson Joe
Lyle
Dobbie
Subs :
Higgins
Atkinson J
Hamill J
Dykes
Murray C
42:16 YELLOW CARD Jacobs
35:19 GOAL QUEENS!!! Scorer - Lyle 2-0
07:02 GOAL QUEENS!!! Scorer - Rankin 1-0
00:00 The Match has Kicked Off
Page will update every 2 mins. Click refresh if you can't wait.
John O'Neill
Gordon Chisholm
Alan Ball
Ian McChesney
Jim Thomson
Andy Aitken
Bob Harris
Paul Burns
Steve Tosh
Tommy Bryce
Jimmy Robertson
Stephen Dobbie
Andy Thomson